sunset fruit & vegetable company, inc.
"The finest produce under the sun"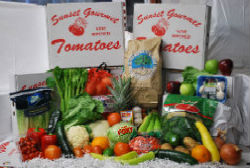 Sunset Fruit and Vegetable Packing Company is a locally owned and operated business, we specialize in providing fresh produce and other food service products to grocery and convenient stores, restaurants, schools, nursing homes, hospitals and other wholesalers.
Our fleet of vehicles helps us cater to our customers' needs. With a service area that extends from Buffalo to Rochester, and Lake Ontario to Pennsylvania, we can design a program specifically for you. We know that you will be happy with the high quality and service standards on which we have built our reputation. These standards, along with competitive pricing, keep our customers coming back.
We now offer online ordering. Contact a representative to set up an account today!
Products

what we have to offer

We have several products (and expanding) that we currently pack. Because of our customer service, we can design a custom package to fit the needs and wants of your customers. Check out our products menu, or click here for our produce, specialty products, or food service.

Recent News

Whats New With Sunset